The Purvis Family



of the Town of Rockland

-

Sullivan County NY

Susan B. Schock

2003

(The story of the Purvis family has been pieced together from bits and pieces of data contributed by a number of descendants of this family, as well as from data found in records and publications. Because there are currently a number of gaps, occasionally a little speculating has been done regarding this story. As time goes by and more facts become known, the Purvis story may very well change.)

George Purvis and his wife are thought to have sailed from England with four or five children sometime between 1791 and 1795. This journey aboard a wooden sailing ship across the Atlantic would have been lengthy as well as treacherous. Such journeys could take up to two months and these passengers tolerated cramped quarters and a limited variety of food rations. It was not uncommon that many of those on board became ill. Occasionally one or two of these travelers died at sea, while others entered the world during these lengthy journeys.

We are not sure just how many family members George started out with or how many he arrived with, but there is lore among his descendants that a child was born aboard the ship during this voyage. There is currently some debate though as to which one of his children it actually was. If this could be determined then the year of their arrival could be established. Census records state that son James was born in NY in 1791 and James' 1876 obituary states, "During his long life he has lived, with the exception of five years, within the sight of the spot where he was born, although the house in which he was born has now crumbled." But then descendants of James' son, Samuel S. Purvis, state that James came with his family as an infant and therefore some have assumed that he was born in England, the country of the family's departure.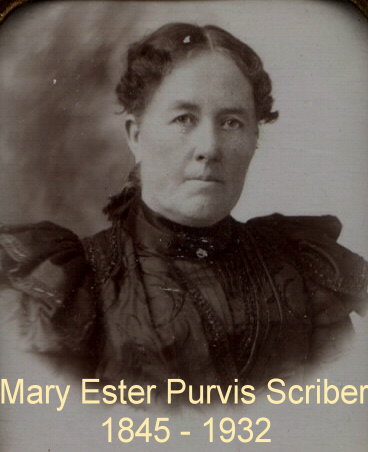 Then adding to this confusion, the 1932 obituary of James' granddaughter, Mary Esther Purvis Scriber, states that her grandfather was born on the Atlantic in 1791. (At least the date if his birth appears to be correct as this would correspond with his age given in an 1870 census record). To add to this confusion, notations were found, (made by Nina Corwin Dann, the wife of George's great- great grandson, George Dann) claiming that it was George Purvis' daughter, Nancy, who was born at sea in the year 1795. These notes state: "Nancy born in England --- probably on the ocean but still considered in England since they had not reached America." Either it was an incredibly long voyage or these Purvises are very good at creating colorful stories!
We have very little to draw from to help clarify this mystery other than early census records which indicate that George and his wife and at least five Purvises, thought their children, were born in Scotland. The last to claim birth there was a son, Thomas, born about 1789. At least four more children were thought to have been born to this couple, the next being James. If James were indeed born in New York State in 1791 then how is it that his sister, Nancy was born a.) in England or b.) at sea in 1795? Perhaps eventually new light shall be shed on this mystery.
Currently there is some confusion about the first name of George's wife as well. Her name is given as Elizabeth in an 1830 NY census record where she is found, apparently a widow by then, living with a number of grown children or grandchildren. But research done by one Purvis descendant, some generations ago (Lillian Jackson of the Jane Purvis Jackson line), claims that George Purvis' wife was named "Sallie". It appears to be the same George Purvis and family but as yet we have no explanation for this discrepancy. George's wife's maiden name is also unknown at this time.
The exact location of the Purvis family's Scottish roots are currently also a mystery but many with this surname can be found in the Midlothian county of Scotland today (Edinburgh) and the name Purvis goes back very early in this region. Undoubtedly George and his family came from a place far more civilized and orderly than their destination. If one lived near Edinburgh in the 1700s there were many shops where a great variety of goods were available. The Purvises back in Scotland were very likely quite literate, having access to books and current news publications on a regular basis.
What actually brought the Purvis family to this remote territory called "Neversink", (then part of Ulster County) is not certain but a clue may lie in a journal kept by the Rev. James Quinlan, who was a Methodist circuit preacher. In 1817 Rev. Quinlan was sent out to a small settlement in the Town of Rockland. His experience is related in The History of Sullivan County (p. 501) by James Eldridge Quinlan, 1873.
"A great deal of rain fell and the rivers were unbridged. Two incidents occurred which I shall never forget. One was swimming my horse through the Beaverkill during a flood. I was not aware of the depth of the water. When I attempted to cross, my steed suddenly made a plunge and was afloat. All but his head was under water and the rapid current bore us downstream. Without pulling on the reins, I gently got his head around in the direction of the opposite shore and he swam for it bravely. As we approached it, an apparently insurmountable barrier was in the way. The top of a fallen tree seemed to prevent access to the shore. My noble high-spirited horse breasted it and it yielded to his pressure. We ascended the bank safely. My boots and portmanteau were full of water and my animal was almost unmanageable. A quarter of a mile from the ford lived a Mr. Purvis, whose daughter was a member of our church. He himself was a Swedenborgian. 'Why', he said as I rode up, 'you have been swimming your horse through the Beaverkill? Why did not the people on the other side tell you that it is not fordable?' I replied that I saw no one there; was not aware of its depth; got into deep water and concluded to put it through. He thought it next to a miracle that I was not drowned."
From this emerges a picture of the area that had been homesteaded by the Purvis family. It was clearly rugged and untamed. From other accounts of local settlers we know there were panthers and bear, as well as wild pigeons (now extinct), and also beaver, deer and trout in great abundance. The exact location is difficult to pinpoint but at least we can visualize the general vicinity, currently thought to have been along what is actually known as the Little Beaverkill. While the individual that the Reverend encountered was referred to only as "Mr. Purvis", this was very likely George, the settler, who would have been about sixty-five at this time. His words were even recounted in a way that sounded as though spoken with a quaint Scottish brogue.
This Mr. Purvis was said to have been a Swedenborgian and this could well explain what brought George and his family to America. The philosophical writings of Emanuel Swedenborg, of Stockholm, had been distributed in Latin throughout England in the mid 1700s. By 1787 a group of followers formally established the Church of the New Jerusalem, based on the teachings of Swedenborg. The spread of Swedenborgian beliefs across the Americas was furthered by missionaries who contacted pioneer settlers at the wilderness edge. Although only speculation at this time, perhaps George came with the purpose of spreading this philosophy to settlers of this remote area. Another possible scenario is that George himself had been converted by a missionary who came through this area. Whatever the case may have been, Swedenborgianism did not take hold in Sullivan County. In fact the Rev. Quinlan states that Mr. Purvis' daughter was a Methodist and in the obituary of George's son, James, it states that he had "converted at the age of seventeen" to Methodism, inferring that he had originally been a follower of another religion.
This area along the Little Beaverkill where George and his family are thought to have settled was then wild and isolated (Now in the Township of Rockland, Sullivan County NY). Most of the other settlers in this area during this time period were third or fourth generation descendants of colonists from New England (particularly Connecticut), or descendants of those who had colonized the neighboring counties of Orange, Dutchess and Ulster some generations earlier.
One can only wonder how readily settler George and his family were accepted among this small population of pioneers born on what had recently become American soil. These other settlers had strong bonds and the families married within one another. There is a natural inclination to find comradeship among those of common background and with similar traits. Therefore George and his family may have been viewed as a bit different with their Scottish style clothing and speech. If they had come from the vicinity of Edinburgh they would have had a different level of sophistication and worldliness that could have set them apart. Some insight into this can be gained by a passage found in a journal kept by a Thomas Purvis of Scotland (not known to be related to George) who came to America in October of 1819 to Ogdensburg NY. Immediately upon his arrival with only 15 shillings left, three of his children ill, having no job, few provisions remaining and an American winter's hardships looming, he inquired of an agent about employment in the town of Rossie. He states "I got a very cold reception. He told me there were too many of my kind already and that it was needless for me to go to Rossie." It is quite possible that along with dealing with an entirely different and rustic environment (wild and dangerous animals, blustery winters, and the responsibility of providing one's own food, shelter and clothing), that George and his family may have also felt rejection from others who had settled in this same area. If he were a Swedenborgian as well, he might very likely have been looked at with suspicion.
The exact total of children born to George and Elizabeth is not certain but it is thought that there were around ten in all. Very little is known about their eldest son George Purvis Jr. Census records do show him married with children and living nearby but the name of his wife and children are currently uncertain. It is thought that his wife's name may have been Mary "Polly" Voorhees and that they were the parents of a daughter Jane Purvis born about 1809. Cemetery records indicate that a Jane Purvis Sprague, wife of George Sprague and the daughter of a Polly Voorhees died in 1900. This Jane and George Sprague had a son Orrin C. Sprague who had four children. Three of his daughters married and moved out of the area and his son, who was named George, settled in Orange Co. NY
Another son, William Purvis was said to have married a Mary "Polly" Overton and it is thought that he may have eventually moved to Delaware Co. At least one of his children, a son, Manly Alexander Purvis, can be found later though in Sullivan Co. with a wife and family. Manly married a local girl, Phoebe Van Benschoten, and was said to have been a hotel-keeper for a while and later a farmer. Two of his daughters married Bennetts of a local family and produced a number of Bennett descendants. Of Manly's three sons, two died unmarried. One, John E. Purvis died in the Civil War and the John E. Purvis G.A.R. Post #347 of Livingston Manor was named after him. The third, Aaron R., had only daughters so the Purvis surname did not continue in Manly's line. Manly may have had Purvis siblings, but they are unknown at this time.
At least two of George's children left the area later as adults and moved to the town of Virgil NY (Cortland Co), where they settled and produced generations of Purvis descendants. A son, Thomas D. Purvis, (born in Scotland) appears to have married a Sullivan County girl named Phoebe Smith prior to departing. Most of Thomas' descendants remained in the Virgil area but some later moved to Michigan.
An Andrew Purvis born in Scotland is found in the Virgil NY census records also and is thought to have possibly been another son of George's. Andrew's wife, Nancy Hale, was from the Virgil area. Little is currently known about this couple, or even if Andrew was indeed a member of this Purvis family.
The descendants of George's daughter, Nancy Purvis Dann, also remained in Cortland Co. Her husband Amariah Dann was also from the Virgil area. Many of George's descendants still live in this area under the surname Dann.
Another daughter Jane Purvis, (thought to have been born in Scotland), married Isaac Jackson, son of an original settler, David Jackson, of the Town of Bethel. Several generations of Sullivan County Jacksons descend from this couple. Some members of this family later moved to Ohio, Kansas and other states.
George's son, James Purvis, and his wife, Abigail Jackson (thought to have been a sister of the above Isaac), also settled in Virgil for a period of about five years. Census records indicate that two of their children were born there but they eventually moved back to Sullivan County, the Town of Rockland, where they remained permanently. At this time there was a demand in New York City for the wild game of this region (especially the venison and pigeons that were said to be quite succulent) and James and many others earned their livelihood as hunters. James was said to have spent weeks at a time in the woods in this endeavor. Family lore also has it that he had been notified a number of times that there was money in a bank account in England for the Purvis family but that James did not follow up on this.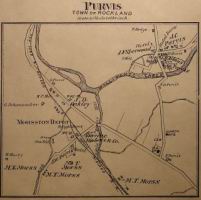 James, who was said to have been a very handsome man, six feet in height, and his wife Abigail produced a total of fifteen children, creating eventually a majority of their kin in this area, not unlike a Scottish "Clan Purvis". At the time of James death in 1876 ten of these offspring were still living. There were so many Purvises in this rural settlement that by the third and fourth generation the area was given its own post office and officially named Purvis. Early maps show this village but it has now been incorporated into the northern portion of the town of Livingston Manor.
Several of James and Abigail's fifteen children have not been accounted for yet but one of their daughters, Samantha Jane, married a James Emmett Sprague, so another line of Spragues in the area also descend from George Purvis.
A son of James and Abigail, Samuel S. Purvis, married Jane Krum whose mother was Sally Parks, the daughter of William and Hannah Hall Parks. (The Hall family were very early settlers in the area). Samuel S. was said to have been very tall like his father and he had been a rafter in the logging business which was very profitable then in Sullivan County. For a time he worked for the Hammond Bros. Tannery (one of the largest in the state of NY) as an overseer but eventually became a partner in a lumber business in Woolseyville NY with Peter Millspaugh. Later on he opened a mercantile business in Liberty NY with H.J. Barles. When he retired he moved to Middletown NY.
Another son, Thomas D. Purvis, (apparently named after his uncle), married Anna Marie Grant. Their daughter Mary Esther Purvis married John Eli Schriber whose mother was Mary "Polly" Wright, daughter of an early settler to the area, Joseph Wright. John and Mary Purvis Schriber's son was Adelbert M. Scriber (the name permutated to this spelling) who was the editor of a local Sullivan County newspaper, The Republican Watchman in Monticello NY.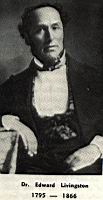 Samuel Purvis, (thought to have been settler George's youngest child), and his wife Estella (last name unknown) had been hired by Dr. Edward Livingston (nephew of the prominent Robert Livingston-The Chancellor) as his caretaker and housekeeper. It is said that Edward came to Upper Westfield, as this area was then called, in 1820 as an agent for his father, who owned a large tract of land there. Edward would have been five years older than Samuel Purvis and perhaps they met one another at this time when both were in their twenties. The Livingston family roots many generations earlier were also Scottish and centered in Lothian, sixteen miles from Edinburgh, where in the 1600s the Clan Livingston were the "Keepers" of Blackness Castle. Perhaps Edward found favor in these Purvises given their Scottish ancestry.
Edward Livingston may have been a rather solitary individual. His wife suffered from mental problems and had been institutionalized. It was said that his wealthy Livingston relatives had shunned him because of this situation. Having never had any children, it appeared that he had no real family of his own. Samuel and his family may have filled this void in Edward's life as his "adopted kin". They all lived together in the same household (Edward's country estate) for over forty years. (The gates to the house were located above the bridge that now crosses the Little Beaverkill). Despite this close relationship to the Purvis family it appears that Edward's estate went to a Livingston nephew.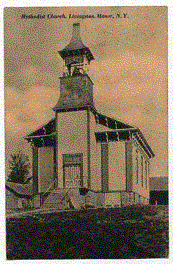 Edward found much satisfaction by giving generously to the poor and he was also known to donate large sums of money toward improving the town then known as Purvis. The undertaking that he gained most recognition for though was the building of the Methodist Church which was completed in the summer of 1852. (This church still stands today and is thought to be the oldest existing building in the village of Livingston Manor, this village being named after Edward).
Edward donated the land, as well as $500.00 that he asked to be matched by the community. It was Samuel Purvis' daughter, Jane, though who barely twenty years old at this time, made rounds with the use of Edward's horse and carriage to collect funds for this project from the local residents, covering all of the Town of Rockland and beyond. Jane, who was said to have been very energetic and unusually persistent, was very successful and collected double of what had been stipulated. Over the years Jane also taught school in the town of Purvis (initially in the Livingston home) and research indicates that she had also taught for a period of time at Washington Seminary in Claverack NY, a school attended by the prominent Livingstons, Beekmans, Van Rensselears, Schuylers and Duanes.
Jane's parents, Samuel and Estella Purvis had seven children that we are aware of but despite this there were no sons of Samuel's that continued the Purvis name. One son, Austin, died as a child. Two other children, a son and a daughter, Orrin C. and Harriet, died as young adults. Orrin who died in 1862 at age 35 was thought to have died in the Civil War. Jane and her sister Emmalissa, lived to very old ages but remained single. There were two other daughters of Samuel's though that did marry and raise families. One daughter, Mary Ann, married into that familiar Sprague family, marrying Erastus Sprague, the brother of her cousin Samantha Jane's husband. William Sprague the father of these boys was said to have owned the first store in the area, bought by William in the mid-1800s from a J. Loveland. He would travel to New York City for supplies and while on a trip back, the sloop laden with his purchases, sank in the Hudson. William was able to swim to shore but thirty others drowned.
Samuel Purvis' other daughter, Estella married David J. Knapp and both of these daughters produced continuing generations of Sprague and Knapp descendants.
Samuel Purvis and his family, as well as Edward Livingston, are all buried in the Methodist Church Cemetery in Livingston Manor. Samuel's brothers, James and William Purvis, and some of their family members' graves can also be found there.
Despite the abundance of Purvis family members in earlier times, there is not a single Purvis found in the local Sullivan County NY phone book today. Undoubtedly some of George and Elizabeth's descendants are still in the area today, but under other family surnames.
.
Sources:
1. The History of Sullivan County, James Eldridge Quinlan 1873
2. Lord of the Waughmaughkyll, James H. Sliter 1986
3. The Beaverkill Valley, Joan Powell and Irene Barnhart 1999
4. Van Benschoten Family in America, W. H. Van Benschoten 1907
5. Epitaphs of Sullivan County, Gertrude Barber
6. Obituary of James Purvis 1876
7. Obituary of Mary Esther Purvis 1932
8. Ulster County Census data
9. Sullivan County Census data
10.Melba Preece, Mesa AZ, Purvis descendant
11.Garron Woodruff, Westminster CO, Purvis descendant (notes of his grandmother Lillian Jackson)
12. Jane Yaples, Tompkins Co. NY (near Virgil), Purvis descendant
13. Janet Mackie, MA Purvis descendant
14. Fred Fries, Livingston Manor NY, Historian
15. Harold Van Aken, Walkill NY, Webmaster and historian
16. Evelyn Boyle, Livingston Manor NY, Historian
17.Dann Family website (www.rootsweb.com/~nycortl/adanna1/htm)
18.Hall Family website (www.noren.com/genealogy/david_hall.html)
19.Purvis website – Scotland (www.apperley.demon.co.uk/index.htm)
20.Swedenborgian website (www.swedenborg.org/history.html)