Hawaii Trip - Liberty Yahoo Group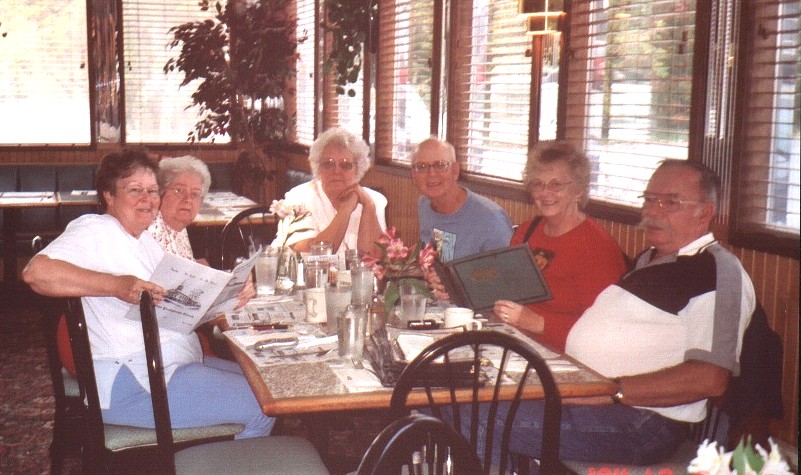 The first is the photo taken at the small but happy get-together in Liberty in the fall.
L to R: Margaret (Dexheimer) Sherwood, Nancy (Hill) Zimmershine ( I betch I got her last name wrong...forgive me), Jo Ann (Hutchinson) Katz, Dawne (Bullock) Norris, and her husband, Lester Norris (can't remember his maiden name!!!!!)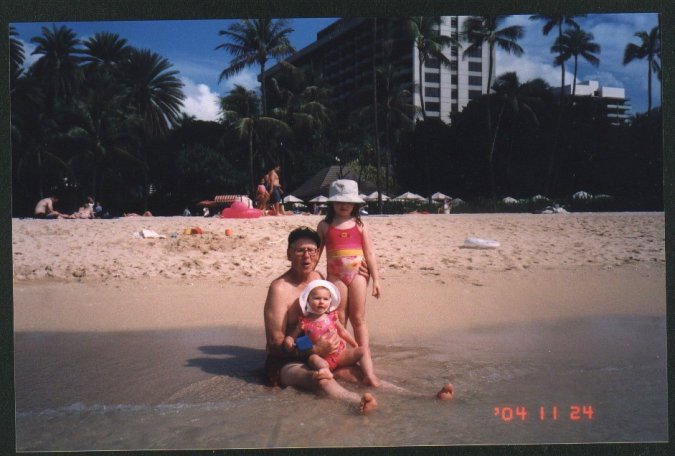 The second photo is one taken on Jim's fabulous Thanksgiving trip to Hawaii with his family. It is Jim with his 2 granddaughters, Sarah (younger) and Elizabeth on the beach. He looks like a happy and adoring grandpops, doesn't he?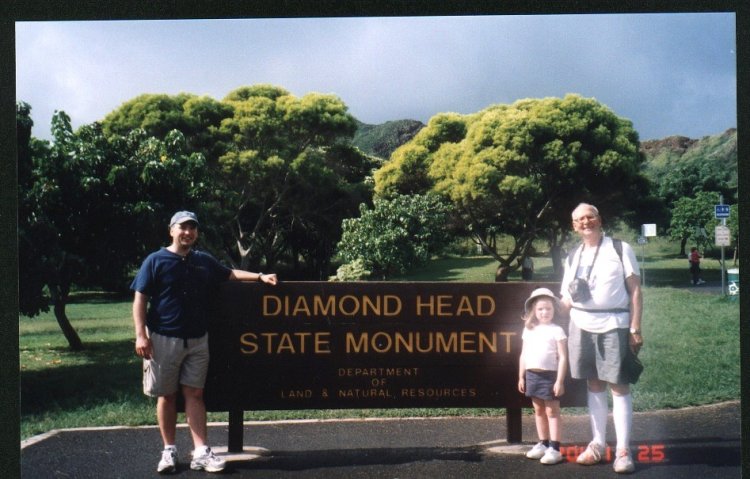 Jim sr., Scott and Sarah about to start our Thanksgiving morning hike to the top of Diamond Head.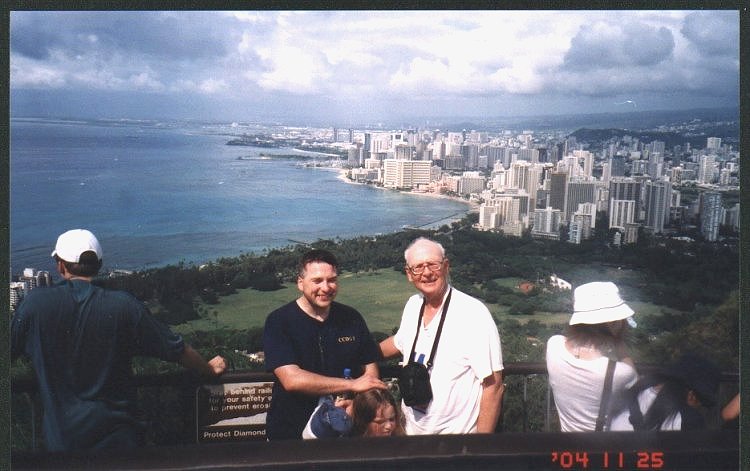 View of Waikiki in background, the three hot hikers at the top Thanksgiving morning 04! Grandpa Jim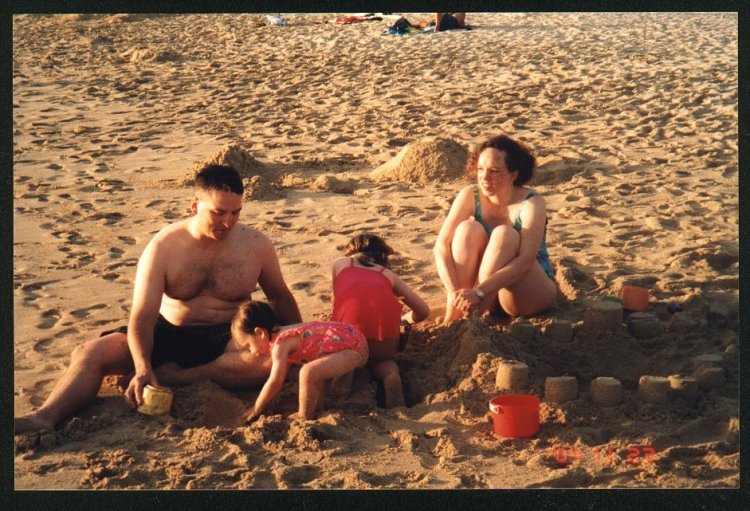 Here are all the far west Thompsons "on the beach" Scott, Karen, Sarah age 5, Elizabeth age 22 months.
The week was all too short but wonderful. Scott did not get one phone call from the his boss, The Admiral. Grandpa Jim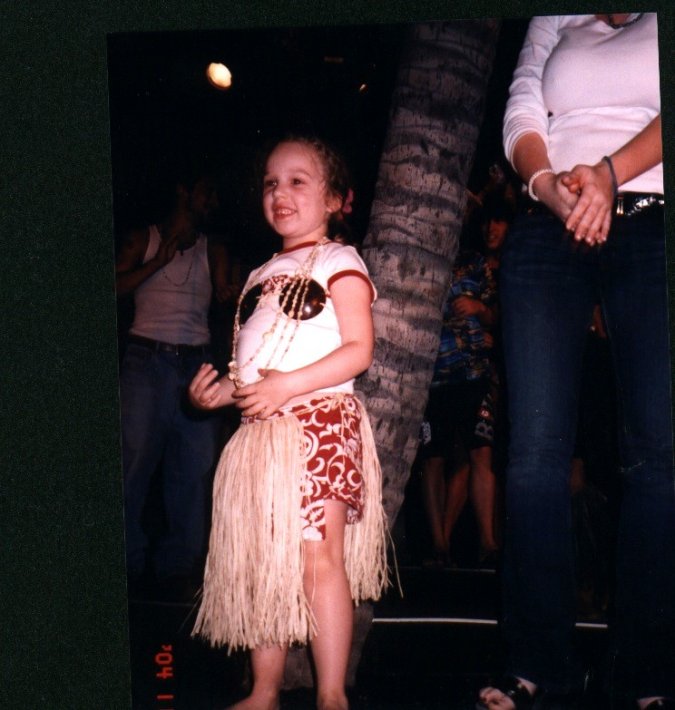 Sarah, age 5, the dancing queen, when invited to come on stage at the Luau and learn The Hula. She was ahead of the pack and grandpa got a picture.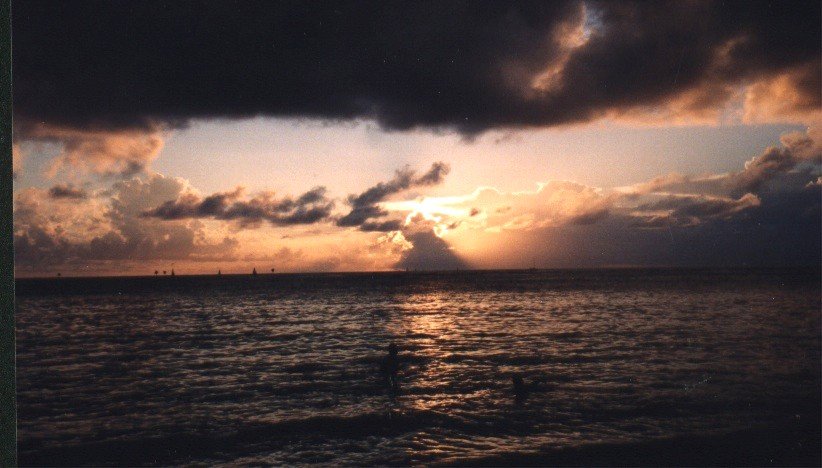 Sunset, our first day on Waikiki. Can't believe it was that warm now, Temp in Albany about 20 now. Grandpa Jim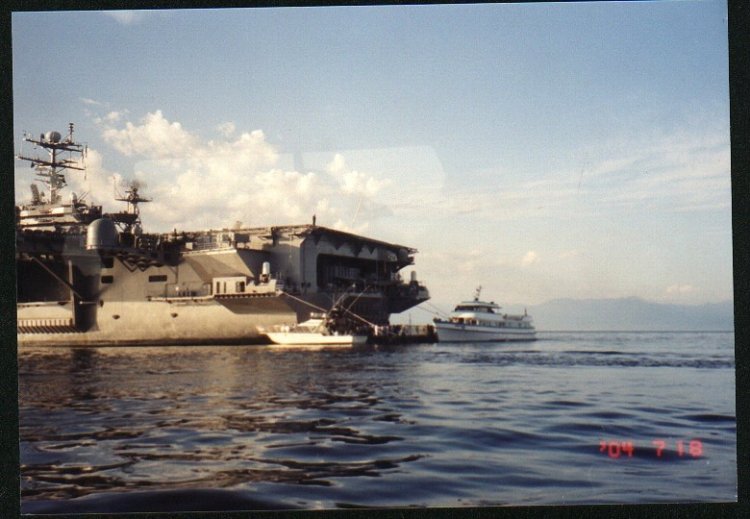 The recent photographs came out so well I could not resist posting a few from last summer. The dates are on the pictures but they may not be able to be read. This is the carrier at anchor near Victoria, BC , Canada as we approached it on our many many itty bitty ferry boats to board. Very efficiently done and no one fell in getting on board. Thanks for sharing these with the Liberty site, if you can. Jim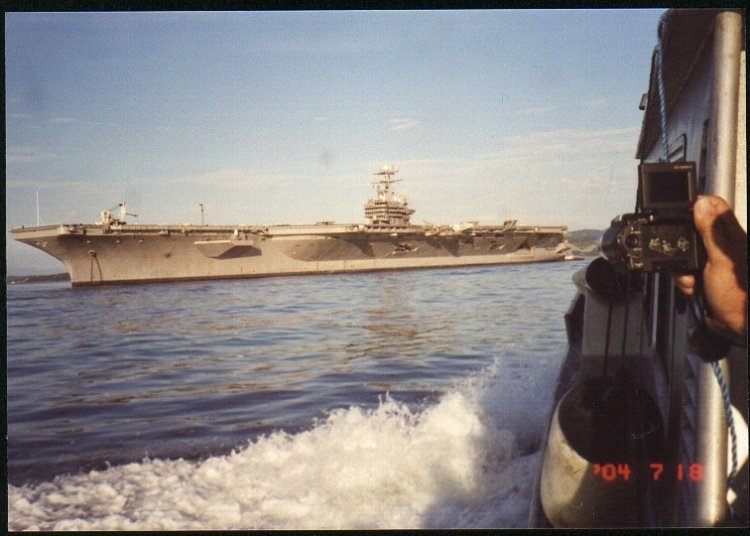 This is the way 2500 family members were boarded in amazingly short time. Jim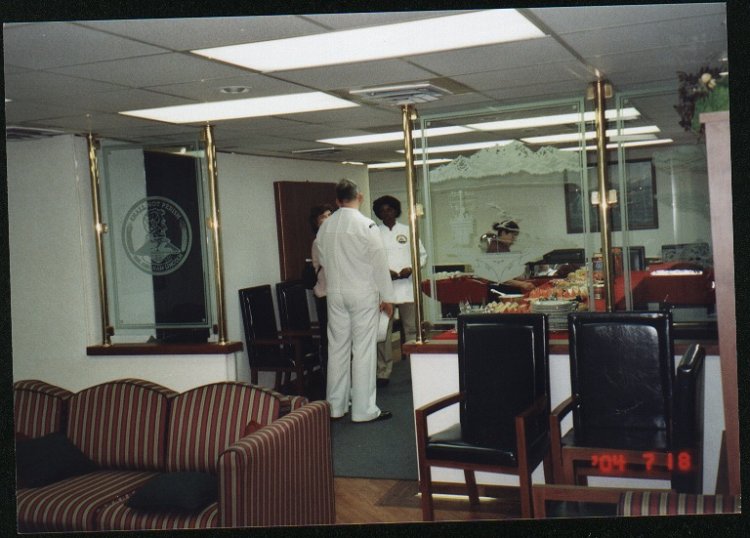 Brunch in Admiral's mess for officers and family members on family day cruise from Victoria, B C to Everett, WA.
I guess it is still "Old Navy".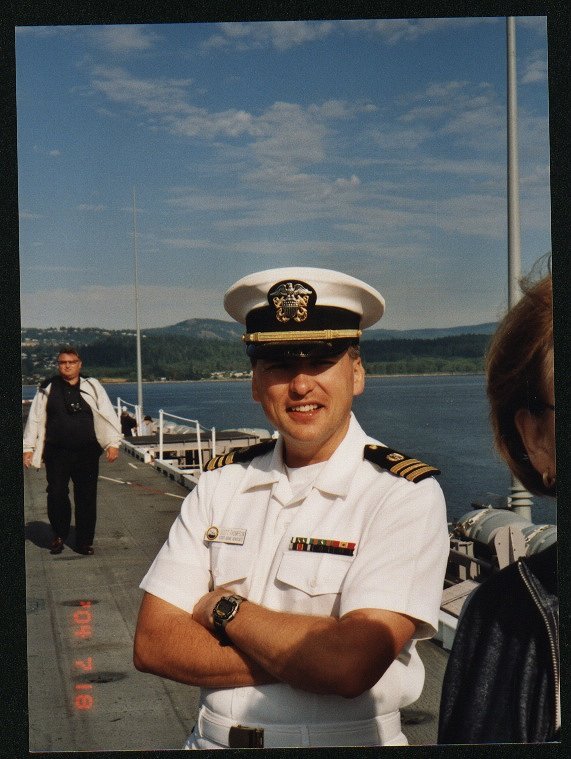 Jim's "little boy" Lt. Commander Scott Thompson. JAG officer, USS Abraham Lincoln Strike Group 9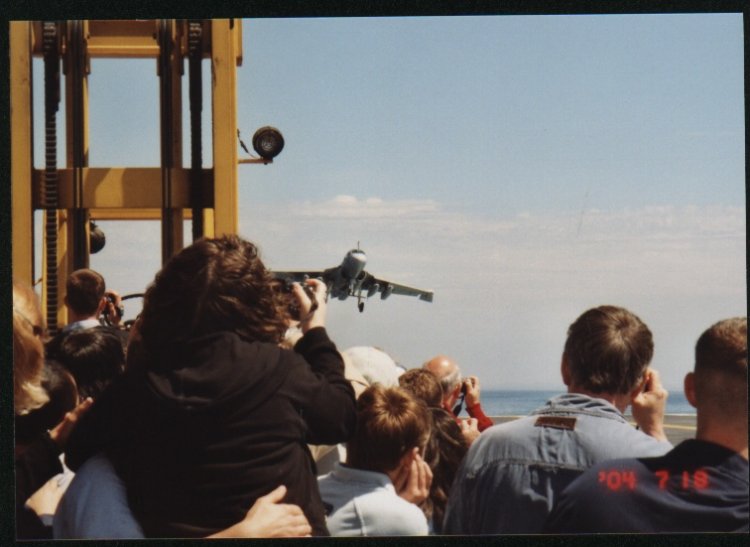 Touch and go prowler landings to impress us civilians. The noise and vibration and dust were most impressive. Jim T.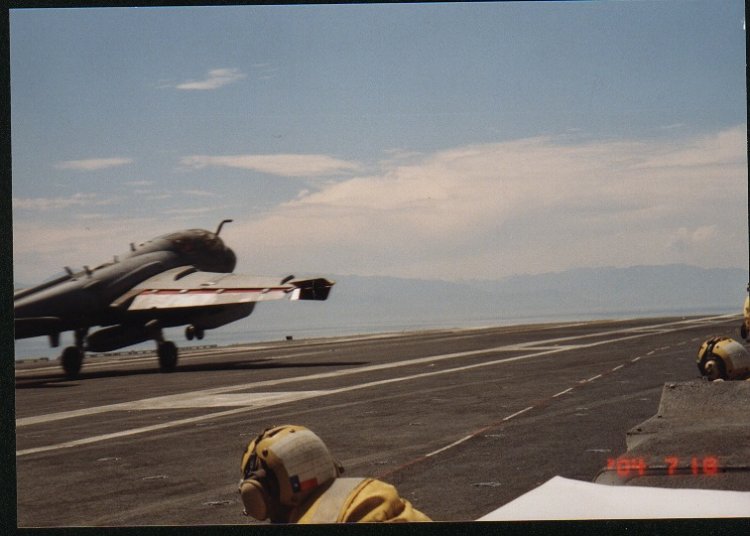 Last one. Had an unforgettable all day ride. The following Sunday the Chaplain on The Lincoln, Scott and Karen's minister from near their home in Bothell, WA and yours truly lead a Baptism Service on The Lincoln for Elizabeth Grace Thompson who's name is now inscribed on the ship's bell. When the Lincoln is decommissioned the bell goes to the museum at Annapolis, MD so I guess she can show it to her grandkids someday.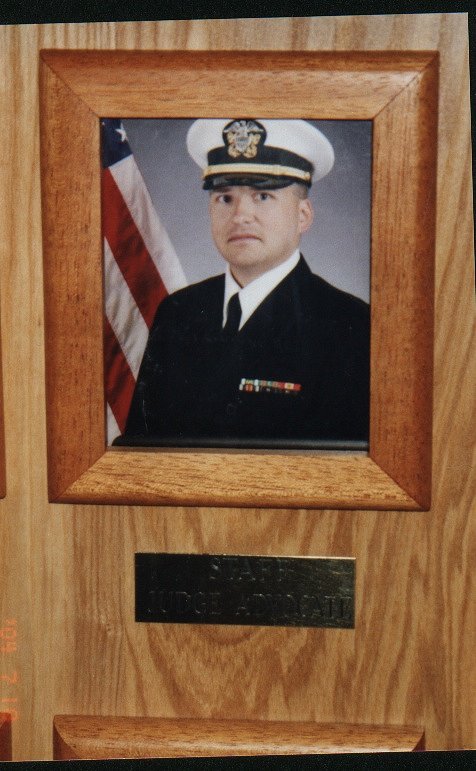 Jim Thompson's youngest son, chief JAG officer to Admiral, Task group 9 aboard the Abraham Lincoln, also stands watches with regular line officers. So he gets his picture posted with all the officers as one boards the carrier. Jimmy