Methodism officially came to Walker Valley with the building of the Methodist Episcopal Church in 1854. There was a great desire by a society that was formed earlier to have a church. When James Walker Sr. died in 1853, he left $300.00, provided that $700.00 more could be raised to build the church. The money was raised and Jacob Walker, who owned the land where Walker Valley is now located, gave a piece of land where the church was built. He also gave land for the Walker Family Cemetery and the Walker Valley Cemetery.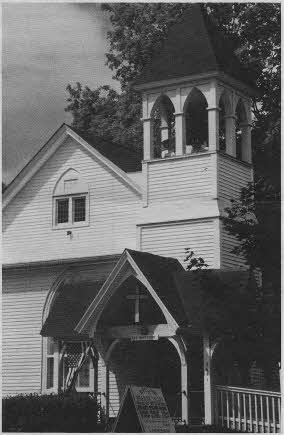 An abundance of timber provided wood for the framework of the church, and there was a sawmill nearby along with four other sawmills to do the cutting. All the wood had to be dressed by hand. The building was completed in December . 1854 and dedicated to the worship of Almighty God on January 8, 1855.
The cost of the church was $1,750.00. $650.00 was raised at the dedication service. After his death in 1870 John Walker, son of James Walker Sr., left $100.00 for the church fund. With this and the fund formerly left by his sister Phoebe Walker, a bell was bought and used until the church burned.
John Walker also left $2,000.00 in perpetuity, the interest to be used in keeping the grounds in a respectable condition. In 1892 new and modern seats replaced the old ones, and a steel ceiling and chandelier were installed. The church building was struck by lightning in July 1907 and burned to the ground. A rebuilding effort was started immediately. Under the leadership of James M .Walker, grandson of the original James Walker; a new building was completed in 1908.
In 1964 the congregation felt the need for an addition to the church. The growth of the Sunday School and the lack of space to hold fellowship gatherings and fundraising activities prompted this decision to build an addition. Once again a dream became a reality as the people of the church and the community came together to build this addition, which was completed in September 1966. It provided Sunday School rooms, an office, dining room, and a kitchen.
Throughout these 150 years the church has provided the people of Walker Valley a place to worship. It has provided a Sunday School for children to come to know God. Our existence as a church is to make all feel welcome and to make each individual feel that he or she is special to God, and in turn, to us - The United Methodist Church of Walker Valley
Shawangunk Newsletter - Volume 3 Number 3 Fall2004