The Johannes Jansen House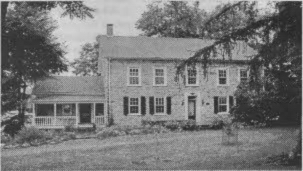 Traveling the back roads of the Town of Shawangunk often leads to many unique and breath­taking discoveries. While best known for dramatic scenic vistas and an abundance of wildlife, Shawangunk also offers a wealth of history to explore. One historic treasure is the Johannes Jansen house on Decker Road in the Rutsonville area. Recently, this property was recognized with a special plaque provided by the town of Shawangunk Historic Preservation Committee. It also is listed on the New York State and National Registers of Historic Properties for it's architectural and historic significance.
The Johannes Jansen House is a distinctive example of the early stone architecture of the region. The older one-story west wing is believed to have been built around 1750 by Johannes Jansen. The two-story main building is of the Federal style of architecture and dates to circa 1800- 1820. It was built by John Jansen, nephew of Johannes, who inherited the property from his uncle in 1803. The house was part of a farmstead, and two surviving out­buildings provide added charm to this historic property. The Dutch barn is significant in itself as a rare surviving example of late eighteenth-century agricultural wood frame buildings. Between the barn and the house is a substantial corn crib, equally as rare and dating to the late eighteenth or early nineteenth century. The buildings are surrounded by open fields and forested lands with the Shawangunk Mountains as a dramatic backdrop.
The history of the Johannes Jansen House also is steeped in drama. It is the reputed scene of one of the most exciting events of local historic tradition. Born in 1725, Johannes Jansen served as a Colonel in charge of the Ulster County Militia, 4th Regiment, during the Revolutionary war. He also was a prominent Whig (and, as such, specifically identified with the rebel cause by the British and their supporters, the Loyalists or "Tories"). In 1780, he and his brother Thomas were attacked by a small party of Native Americans and Loyalists, who had joined forces in a series of raids throughout the Minisink and Warwarsing areas. Tradition records that some of Colonel Jansen's slaves and neighbors were killed or captured, but Johannes and Thomas Jansen and their families escaped unharmed.
Johannes Jansen is buried in the Bruynswick Rural Cemetery near the Reformed Church of Shawangunk. His house and farmstead, though privately owned and not open to the public, continue to be preserved and honored as part of Shawangunk' s rich architectural history.