A Shawangunk Treasure
J.B.Crowell & Son Brick Moulds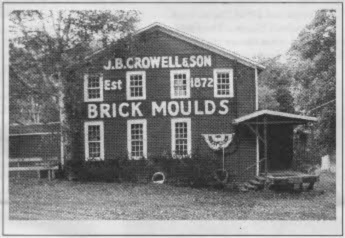 One of Wallkill's oldest continuing yet little-known commercial enterprises nestles quietly along the Dwaarkill stream east of the junction of Lippincott and Albany Post Roads. The James B. Crowell & Son Brick Mould Mill boasts operation since the Civil War by the Crowell family and is now managed by the 4th and 5th generations. It is the only independent company in the U.S. manufacturing hardwood brick moulds.
Looking like a giant ice cube tray their specialty is the steel-reinforced wooden box in
which the bricks are formed. Wood-molded brick is specified for particular applications by architects/designers. In addition, however, a new computer-guided router/shaper now allows them to supply intricate shapes and designs quickly for specific markets. At this writing, wooden chair backs were being processed for a customer.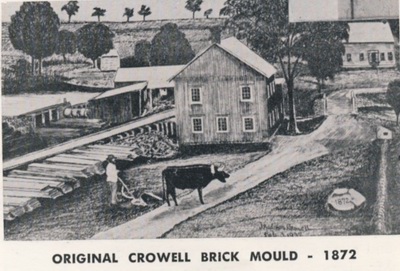 Records compiled for their National Register application in 1983 show that their 13-acre parcel on the North and South sides of the Dwaarkill has been an important mill site since the 1700's when the stream was harnessed by an overshot water wheel. Fires have destroyed several mills but the 1915 reconstruction remains essentially unchanged except that purchased electrical power replaced hydro-mechanical power in 1948.
Earliest deeds indicate ownership succession by familiar names: Hendricus DuBois and Cornelius Schoonmaker; Gerardus Beekman & Co.; Cornelius Bruyn & son Morris; Wm. Peartree and others, and the Bate Family.
Maps from 1829-58 show mill operations by the Bate family with a log dam and water wheel. When the Crowells purchased it in 1868, the mill was gone but was reconstructed by 1871 when advertisements by Wallkill Valley Sleigh Works offered children's sleighs, agricultural implements, cutting boxes, well curbs, harrows, ox bows, and brick moulds. By the 1800's, brick moulds had become their major product which continues to the present, but with the addition of modem machinery the company is diversifying once again.
The well-preserved 1800 stone home, out-buildings and barns make a visit there a step back into a slower paced era where you are warmly welcomed by people who enjoy their work.
Source: Historical Society of Shawangunk and Gardiner Newsletter Volume 2 Number 4