A Unique Borden Family Legacy - The Borden House
by Alfred Smiley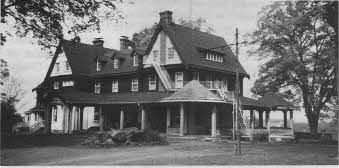 Researching local history of the Village of Wallkill area is a heartwarming confirmation of this writer's gratitude to live in this valley. Superlatives abound in records from many eras and perspectives. Since my boyhood in the 40's at Minnewaska and Mohonk, European guests and world travelers have extolled the area to me as rivaling any of their experiences.
James Crowell II recalled the famous artist Marc Chagall's visit to Wallkill in 1912 describing it as " ... one of the most beautiful parts of the country with its scenic mountains and farms." In this period, nearby Cragsmoor had become a colony of renowned artists extending the world's appreciation of our area celebrated by the Hudson River School in the prior century.
In 1881, John G. Borden, the youngest son of Gail Borden (the successful developer of condensed milk and father of modem, sanitary dairy methods), selected this valley after a three-state search to locate his dream "Hope Farm ...to establish an enterprise near a great city" accessible by river and rail which would survive a hundred years, "available as a home, a park, a resting place ... "
Borden's first purchase here in 1881 of 563 acres included the 1750 stone Hasbrouck House (500' north of the present mansion built in 1906 by daughter Marion) and the 280 acre farm running west to the river. He renovated the house and built a brick office building (intact today and maintained as office/museum by descendants of Borden veterinarian, Clare Hoyt).
Near the Wallkill/Walden line, the condensory was built in the summer of 1881 on the banks of the river. Interestingly, labor came primarily from New York City by 9 A.M. daily, a rail trip of under three hours in those days. John Gail, maintained his father's passion for cleanliness in all phases of the company's operation to insure fresh milk products. Called the Dairyman's Ten Commandments, strict procedures regarding types of feed, cleansing and transportation to the condensory plants were required of participating farmers and workers. Inspectors and veterinarians monitored quality at all points. His motto: "What is worth doing is worth doing well" is also evidenced in the aesthetics of all his projects, structures, and landscapes with ornate wood and brickwork, floral beds, treed roadways, and fountains.
Development of the dream farm culminated in purchases of nearly 2,000 acres including a major portion of the current Village of Wallkill which he designed on both sides of the former railroad. The large farm which included livestock and agriculture depended on local labor for which Borden provided lots and housing at little or no cost. His roads and lot lines survive largely the same today when comparing our current map with his original.
The Hope Farm, started in '81, became home to a community in eight short years. Houses for farm labor, many barns and silos, and two water-powered grist mills were complemented by orchards and vineyards, rolling grain fields and pastures, creating a model bucolic scene for those gathering here for demonstrations at annual agricultural festivals of the Wallkill Valley Farmers Association.
Fortunately, John Gail's death at age 47 in 1891 did not halt the Borden family's obvious pursuit of excellence. His youngest daughter Marion, carried the standard for­ ward, erecting a 26-room mansion worthy of her father's nearby 350' barn designed to store 500 tons of hay above the livestock. Her efforts to provide electrical power to the farm and village became the origin of the Central Hudson Power Company. She fostered social gatherings in the house, barns, and the greenhouse gardens. An avid Scouter, she championed Girl Scouting by giving to the Ulster County's GSA Council the east end of the farm off St. Elmo's Road, the site known today as Camp Wendy and added an all-purpose room to the Wallkill Reformed Church which students from her father's high school used for plays and indoor athletics. The Wallkill Library was also her bequest in 1930.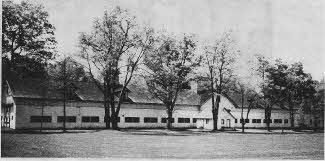 It is difficult to briefly and adequately remind the community of its indebtedness to the vision and charity of the John Gail Borden Family. One, however, cannot miss the remnants of the majestic, tree-lined roadways; stone gateways and metal fencing still outlining open spaces. Downing-style cottages are evident despite modifications, and, fortunately, barn and mansion restorations currently in progress on the Home Farm by the Practical Philosophy Foundation are preserving segments of that more elegant period. Our village parks, library, school, four styles of homes, and gardens: the area's electrical power; and safe milk supplies everywhere remain testimony to the rare ethic and humanitarian legacy of the Borden family.
Source: Newsletter Historical Society of Shawangunk & Gardiner Volume 3 Number 2