Historical Society of Shawangunk & Gardiner
2015 Programs and Society Information
All meetings will be held in the Town Hall Community Room at 14 Central Ave, Wallkill, NY
Free to all - Light Refreshments Served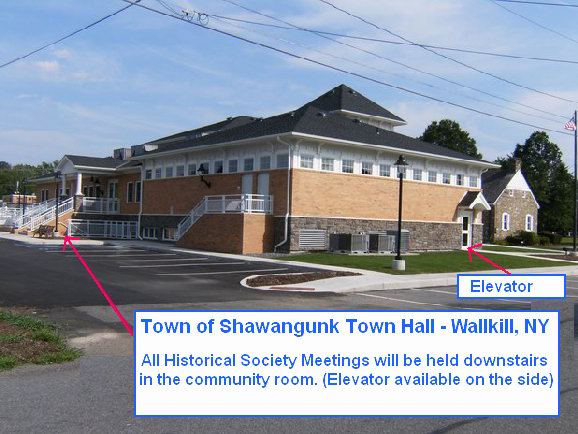 2015 Fall Programs
Saturday, September 12, @ 9 a.m. – 2 p.m.
Shawangunk Town Hall Community Room
Weave your own Pie Basket Workshop with Mary Bickel.
Bring your own lunch. Fee: $35. Limited to 15 people.
Contact Freda Fenn – 845-895-3986
Saturday, October 3, @ 9 a.m. – 3 p.m.
VOW Weekend includes Tour of 1769 DuBois House and Knights of Pythias Museum
Monday, October 5, @ 7 p.m.
Gardiner Town Hall
Tribute to Historian Carlton Mabee
Presenters:

Mary Beth Majestic and Libby Ross
Refreshments provided.
Wednesday, November 4 @ 7 p.m.
Shawangunk Town Hall
Early History of Jones Patent and the Tourette/Borden Mill on Borden Road
Presented by Susan Dawes and

Karen Dale
Refreshments provided
Saturday, November 14 @ 2-4 p.m.
Shawangunk Town Hall Community Room
Benefit Tea $15, plus raffle, quilt raffle and drawing
Contact Carolyn Crowell, 895-3933
or Freda Fenn, 895-3986
Wednesday, December 2 @ 6 p.m.
DuBois House at 75 Wallkill Avenue.


Christmas Pot luck Party.
Wine, cheese, deserts & snacks
Bring dish to share.

2015 Spring Programs
Wednesday March 4, 2015 at 7 PM Enter side door on Central Ave
'A Visit to the Galapagos Islands'
Where - Shawangunk Town Hall Community Room 14 Central Ave in the hamlet of Wallkill
<![if !supportLists]> ·

<![endif]>
A PowerPoint Presentation by Naturalist and Photographer Bill Fiero.
<![if !supportLists]> ·

<![endif]>
Take an armchair trip to the Galapagos Islands, one of the most unique natural areas in the world.
<![if !supportLists]> ·

<![endif]>
Through photos, graphics, and talk, Bill will discuss how the confluence of geography, climate, evolution, and biology resulted in the Galapagos - the 'Enchanted Islands'. He will also touch on the impact of Charles Darwin, whose discoveries on the islands changed the course of science.
<![if !supportLists]> ·

<![endif]>
Bill, a Walden native, has traveled extensively on ecological journeys, and frequently gives presentations on his destinations.
Refreshments - Free and open to all
For more information contact Freda Fenn 845-895-3986
Wednesday April 1, 2015 at 7 PM

One-Room School Houses in Shawangunk
by Elaine Weed
Elaine Weed will present a
PowerPoint Presentation
on her book "One-Room Schools" written by Elaine with photos by Edward Weed.
Elaine will be revisiting the 13 one-room School Houses in the Shawangunk township with before and after photos of the Schools.
People who have attended the one-room schools will be invited to share their memories
Wednesday May 6, 2015 at 7 PM
Quilting Demonstration by
Textile Quilting Group


The Textile Quilting Group are working on a quilt which will be donated to our Historical Society.
They will bring the unfinished quilt to the meeting showing how quilts are made and show samples of other quilts and quilting tools.
If you own a quilt or coverlet with an interesting story please bring it to the meeting and tell us the history.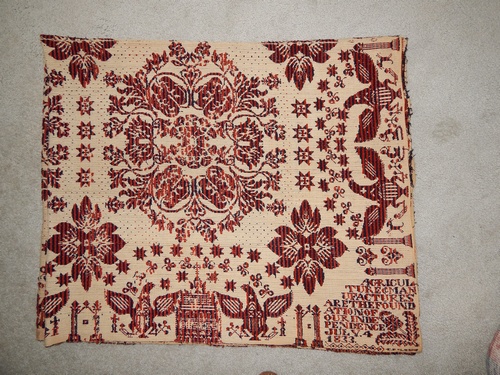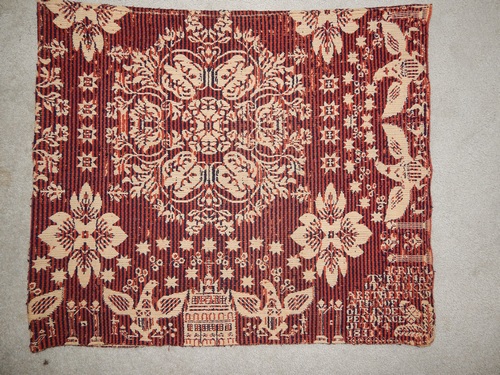 AGRICULTURE & MANUFACTURES ARE THE FOUNDATION OF OUR NEW INDEPENDENCE JULY 4, 1833
1833 Quilt Top compliments of Freda Fenn
Wednesday June 3, 2015 at 6 PM
Picnic at the Historic Andries DuBois House
Location: 75 Wallkill Avenue in the Hamlet of Wallkill
Pot Luck and bring your own place settings
Program to be announced later
Hot Dogs and Drinks available
More Details at a later date
Saturday June 27, 2015 9:00 am to 4:00 pm (rain or shine)
Garden Tour
| | |
| --- | --- |
| | Self-guided driving tour of local Gardens Including a Tour of the Knights of Pythias House |
| | On the day of the Garden Tour visit the Andries DuBois House for a plant sale |
| | A map and descriptive brochure will be provided with your ticket. |
Saturday July 11
, 2015 at 3 PM
Bannerman Island Tour
SOLD OUT
<![if !supportLists]> · <![endif]>Meet at Newburgh Landing between 2:30 and 2:45 pm
<![if !supportLists]> · <![endif]>Bannerman Boat (tour capacity 44 people) leaves at 3 pm for a
guided tour of Bannerman Island Castle
<![if !supportLists]> · <![endif]>Return by Bannerman Boat to Newburgh Landing at 6 pm
<![if !supportLists]> · <![endif]>Tickets are limited and must be purchased in advance, $35 per person (21 left)
<![if !supportLists]> · <![endif]>Tickets may be purchased at the Andries DuBois House on any Saturday 10 am – Noon.
<![if !supportLists]> · <![endif]>Contact: Donna Myer 845-851-8105 email:DonnaMyer@yahoo.com
History
<![if !vml]>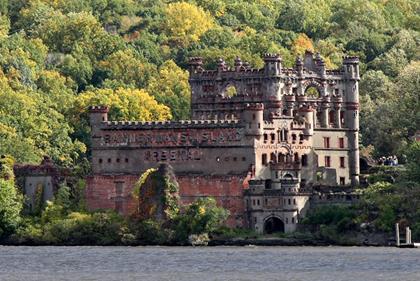 <![endif]>Pollepel – An Island Steeped in History
by Jane Bannerman

A tiny jewel in the setting of the Hudson Highlands is called Pollepel, now familiarly known as Bannerman Island. Once an uninhabited place, accessible only by boat, it was considered haunted by some Indian tribes and thus became a refuge for those trying to escape them. These superstitions and others promoted by later Dutch sailors make for many fanciful tales. Even the name Pollepel (Polopel) originated with a legend about a young girl named (Polly) Pell who was romantically rescued from the breaking river ice and landed on the island shore, where she was promptly married to her sweetheart, who rescued her and her companion. The island was thereafter called Pollepel.

History reveals a connection to the American Revolution in attempted defense of the Highlands against the British fleet in 1777 using the famous "chevaux de frise". These were devices constructed of wooden cribs sunken in the river, filled with metal-tipped, pointed logs to obstruct the passage of ships up the river by damaging their hulls, built by men commandeered from the local prison. The attempt was however, unsuccessful, as the British took to flat bottom boats and avoided the chevaux de frise. One of the "points" is now on display at Washington's Headquarters in Newburgh, New York.
See the Bannerman Castle website for more info: http://bannermancastle.org/index.html
2014 Programs