Parks of Sullivan County
---
The Parks of Connecticut were early arrivals into Neversink of Ulster/Sullivan County establishing their roots throughout the area. They claim the first-born white male and two hamlets named after them, Parksville and Parkston. The Parks line is fairly well-documented back to their origin with Robert Parke born in 1350, Gestingthorpe, Co. Essex, England and their migration to Connecticut in the mid-1600's, but not much has been documented on the Parks after William parks moved to Sullivan County N.Y. Quinlan's "History of Sullivan County" mentions some facts but not many details of their lives.
The Stories of Cora Parks (1869-1972)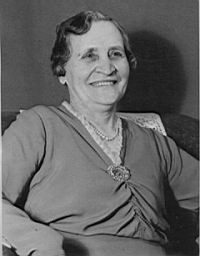 The arrival of the Parks was told to me by my Great-Grandmother Cora Parks Van Aken 1869-1972. She was of sound mind and lived with us for several years when she was in her late 90's. She told countless stories of the "good old days". She moved upstate to Guilford to take care of her younger sister until she died and then stayed on caring for her nephew and keeping house until she died at the age of 103.
Cora Parks (Cornelius, Joseph, William ...) recounted what had been told to her about the arrival and lives of the Parks.
Story #1 - Cora's Great-Grandfather William was living in Litchfield county Connecticut and decided to move to a less populated area where he could stake his claim. During the winter of about 1789 William and two brothers set out with their father to look over land that could be purchased in Ulster County NY. They went in the winter time so they could cross the frozen Hudson river and not have to pay for a ferry. They crossed the river and made it at least as far as Neversink, which was part of Ulster county, and located land that they could settle on. They returned to Connecticut with plans to return with their families and belongings the next winter when the river froze over again but the father died that summer and the three boys returned with their families. William stopped in Neversink and his brothers continued on to unknown places and were never heard from again. One may have gone to Pennsylvania and the other to Delaware county. It's not known where they stayed that winter since they would have needed a house until one could be built.
Story #2 - Another story from Cora Parks about her Grandfather, Joseph Parks, was that he had a large successful farm in Parksville and got the rights to some wilderness land in the Willowemoc valley above Purvis as it was called then. It's not know how much he paid for it or how he got it but it could be reached by crossing the mountain to the Willowemoc valley in a few hours by foot. It may have been the results of his brother William Park Jr. and Father William surveying the boundaries of the Town of Rockland in the earlier years.
Story #3 - Cora's Father Cornelius (Joseph, William) married Hester Overton from Purvis in the late 1850's and moved someplace between Purvis and Parksville. They stayed there farming until about 1870 when his father Joseph gave four of his children, William, Peter, Cornelius and Catherine each a 80-100 acre wooded lots above Purvis. There were no roads suitable for horse and wagon that went to the property so Cornelius traveled up the Willowemoc River by Oxen and sled with his family and possessions. Cora claims to remember the trip up the river but she would have been one year old then. I suspect she remembers later trips before the DeBruce road was built and Cornelius was bringing building materials and supplies form Purvis. The first year there Cornelius built a log cabin and a small barn neither of which are there anymore but the foundation of the barn was visible for many years. The next year after being flooded out by the Willowemoc Cornelius built a house and barn higher up on the hill. The house still stands today and the barn was torn down 20 years ago to sell the boards.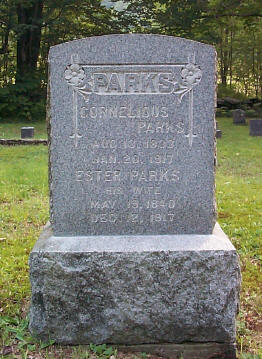 Story #4 - When Cora was a little girl, she remembers that each Spring, Indians would come down from the "hill" and want to trade furs for other items that they needed. They were friendly but it was rumored that they would "take little kids" so they needed to stay near the house. There were caves and Indian artifacts on top of the hill that were found many years later. It's possible that when Cornelius came to the area he disturbed where they were living because artifacts and evidence of a small village were found a short distance from where Cornelius built his house.
---
The Parks Arrival According to Quinlan
William Parks and John Hall, who settled on Mutton Hill, were from Litchfield county, Connecticut. Elijah Parks, son of William, was the first white male child, and Sally, a daughter of Hall, the first white female born in that region. Parks, it is said, was a kinsman of Arthur Parks, who was a senator from the Middle district from 1777 to 1788. William Parks was member of assembly from Sullivan and Ulster in 1816.
Joseph Howard and Eleazer Larrabee were living in 1793 on Mutton Hill. Their neighbors were John Hall, William Parks and Silas B. Palmer
About 1797 William Parks erected a grist and saw mill in Prince's Hollow in Neversink.
The year when Parksville was settled is not known; but it is believed that Lemuel Martin and Eber Hall located there in 1800. Nathaniel White, whose son Crossman was deaf and dumb, settled there at an earlier day. Shortly afterwards the family of William Parks, and that of his son Elijah, were added to the place and took a prominent position. They built mills, and made many improvements, completely throwing Mr. Martin in the shade. This was not pleasant to the latter, who considered himself entitled to respect as the pioneer of the locality. When it had become sufficient consequence to have a cognomen, he contended it should be called Martinville; but his ambition was not gratified. The people, dazzled by the more enterprising and stirring man, named the place Parksville, in honor of William Parks. With this Mr. Martin was much displeased.
William Parks was an early settler of the town of Neversink. William Parks was supervisor of town of neversink 1809-1811. In 1816, when Sullivan and Ulster formed a joint Assembly district, William Parks, then of Neversink, was one of the four Assemblymen from the two counties. In his old age, he removed to Wawarsing, Ulster county, although he still was strongly attached to the village which bore his name. In 1846, when he was four-score, he made a visit to Parksville, and feeling unwell on reaching his old home, he remarked that he had come to die and be buried where he has so long lived. His words were prophetic, for he lived only about a week after he had uttered then. He was an honest, kind, active and affable man, and enjoyed the esteem which such traits generally win.
The ground on which Parksville stands, was once in the town of Rockland but, for the convenience of the inhabitants, it was annexed to Liberty. The boundaries of Rockland were established by William Parks of Parksville, David Overton, William Parks jr. and Isaac Jackson.
Soon after the French and Indian war, William Parks son Josiah Parks generally went with Skinner when the latter ran a raft down the Delaware River. Being noisy and obstreperous, he was dubbed boatswain and was known as "Old Boson" during the remainder of his life.