The public is invited to "Follow in the Footsteps of Jane Colden; American's First Female Botanist" and discover a local historic figure, identify indigenous plants, and sketch them using botanical drawing skills. Local artist Shawn Dell Joyce leads this mile-long nature hike through Benedict Town Park in Montgomery, NY every Saturday from 4-5pm in July. The hike is easy terrain, free, materials and snacks are provided and children are encouraged. For more info: www.WallkillRiverSchool.com or call (854) 457-ARTS
Learn about Coldenham's founding family, and America's first female botanist; Jane Colden, who at 13, identified indigenous plants in our region. "Most of our children can already identify ten corporate logos and jingles;" notes Joyce. "Now I want to teach them to identify ten indigenous plants!"
Participants will learn to identify and sketch at least 10 indigenous plants, and see some of Colden's botanical notes and illustrations, as well as the basics of the Linnaeus system of plant identification, botanical drawing, and sketching. Field trips along the Wallkill River each Saturday, along a one mile loop on gentle terrain. Meet under the old Sycamore tree at the river (boat launch area) at Benedict Town Park on Route 17K across from the Brick Church in Montgomery.
Materials and snacks provided by the Wallkill River School of Art. This class is offered free every Sat. from 4-5pm in July, and was made possible, in part, with public funds from the New York State Council on the Arts Decentralization Program administered by Arts in Orange.
The Wallkill River School is a nonprofit, artist-run cooperative, which creates opportunities for artists to earn income and exhibit artworks. The WRS runs a school and art gallery in the historic Patchett house in Montgomery. The WRS partners with historic sites and open spaces in an effort to help preserve our area's agriculture and open spaces.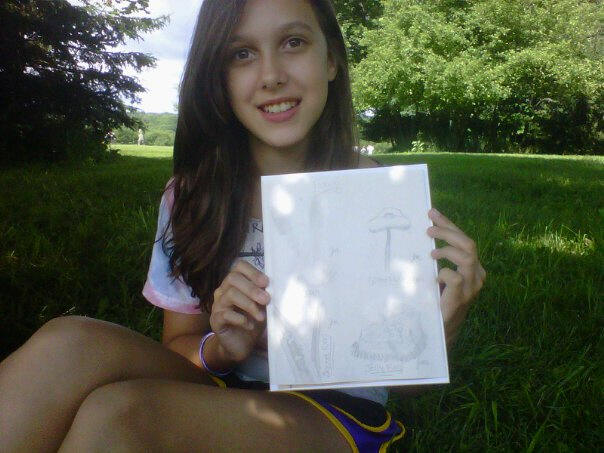 Participant Sketching an indigenous plant similar to Jane Colden, America's First Female Botanist ###
Shawn Dell Joyce
Director
Wallkill River School and Art Gallery
232 Ward St. (Same as 17K)
Montgomery, NY 12549
(845) 457-ARTS
Like us on Facebook, Follow us on Twitter!