<![if !vml]>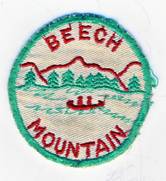 <![endif]>
BEECH MOUNTAIN SCOUT CAMP
1951-1958
by Don Gordon
BEECH MOUNTAIN SCOUT CAMP PowerPoint presentation <click link> (Microsoft Office required)
Preamble
The first draft of this account was prepared from memory and documents that I had saved over the years. I passed it on to several scouting friends for comment and additions and got feedback from Dick Morse, Peter Haight, John Arfmann and Deming Payne. One day, just out of curiosity, I did a Google search on Beech Mountain Scout Camp and was surprised and delighted to find a website on the history of Livingston Manor with a section on Beech Mountain (http://livingstonmanor.net). This section contained information contributed by members of a Yahoo discussion group which I immediately joined. It included the early history of the area, personal recollections, reports of recent visits and some photos. It was a real gold mine of information. Through this website, I became reacquainted with two former scouts from Beech Mountain days. Jeff Gorss was from Cornwall-on-Hudson and I was his leader in 1956 and 1958. Geoff Brown was on staff with me in 1956 and later was a year behind me at Hamilton. We enjoyed sharing memories by email and telephone and they both provided me with additional information. I have incorporated the new information from these various sources into this revised account. I also have been collecting and digitizing various documents and photos and have compiled a PowerPoint presentation on Beech Mountain that is also available.
Beech Mountain Scout Camp
Of all my wonderful scouting experiences, the highlight of year was summer camp at Beech Mountain Scout Camp. The camp was located in northern Sullivan County about five miles north of Debruce in the southwest part of the Catskills. The nearest town of note was Livingston Manor. The total land area was on the order of four square miles and the camp itself was located on Hodge Pond. The site was on the ridge that divides the watersheds of the Beaverkill and Willowemoc Rivers and was quite isolated. The road in was beside Mongaup Creek, a good trout stream, and was paved as far as the State-run fish hatchery and conservation camp but turned to dirt just before the camp boundary. A branch road on the right went into Mongaup Pond which has always been a popular camping area. There was another scout camp nearby at Grooville named Onteora but I never recall visiting it.
The early history of the site began with a Patrick Harvey Flynn. He was an engineer from New York City who was responsible for numerous infrastructure projects and amassed a considerable fortune. In the late 1890's he purchased over 1350 acres in the Hodge Pond area and proceeded to build an elaborate mansion and outbuildings as an escape from the city. This was apparently built on the old town road that once ran from Mongaup to Shin Creek (and on to Lew Beach) with a view of Hodge Pond. Flynn was later plagued with legal and financial problems dealing with his businesses and lived in seclusion with his niece. The mansion burned down in May 1926 and destitute Flynn died just a month later. For several years, the remaining outbuildings were used as a hunting lodge by a friend of Flynn's named Harry Hanbury. Another New York capitalist named Benjamin Frick purchased a farm along the outlet of Hodge Pond in 1900 and built residence. He also constructed a dam to create a trout pond which became known as Frick Pond. Another interesting bit of early history was a plane crash near the summit of nearby Mongaup Mountain in June 1934, just outside the camp boundary. An American Airlines plane travelling from Newark to Syracuse went down in bad weather killing all seven on board and the wreckage was visible for many years.
According to my father, the land was bought by the Orange Sullivan Council for use as a scout camp soon after the war. Dad, Charlie Reed and Rudy Arenburg were involved in the purchase. Apparently the initial scout camp was at nearby Hunter Lake, which later became the site of Camp Townsend. The Council headquarters was located in Middletown and later on in the 1950s was renamed the Hudson-Delaware Council. The chief scout executive back then was Henry (Sandy) Donahue. My dad was not sure exactly where the money came from but there must have been a mortgage. Some of the buildings already existed but others had to be built later. Dad used to go up for weekend work parties to set things up when I was too young to go. At some stage, a promotional home movie was made which I found very exciting to watch. I could hardly wait until I would be old enough to go.
Just inside the camp boundary on the left was the camp ranger's cabin. During my time, the ranger was Fred Owens who lived there year round with his wife. He was very much a woodsy, tobacco-chewing character and jack-of-all trades who looked after the camp. Beyond his cabin, the dirt road continued up a steep hill. After about two miles, it reached the large wooden gateway made of logs over the road into which was carved 'Beech Mountain Scout Camp'. On the right, was the rifle range and a bit beyond was the family area for married staff composed of a central lodge and numerous sleeping cabins. It was near here that the Flynn mansion had been built. Also off to the right led a woods road up to the top of Beech Mountain proper (3118') and from there it was a short walk to a fine outlook to the west with views of Hodge Pond and the camp. Another woods road ran out to Shin Creek and on to Lew Beach on the Beaverkill River. Apparently Irving Berlin had a summer home along this road. Just beyond the gateway, the main road turned left and proceeded downhill into the main camp on the shores of Hodge Pond (2600'). Hodge Pond was a beautiful small lake, about 1500' in length. It sat on top of the watershed and had excellent water quality, although cool in the early summer. The surrounding vegetation was mostly hardwoods, especially beech and maple, with a lot of mountain laurel as well. A woods road ran all around the pond. A small stream flowed out of the pond down to Frick Pond and eventually into Monqaup Creek. Frick Pond could be reached by trails from the main camp or by following an old road that branched off to the left at the camp boundary by the ranger's cabin. It is an artificial pond surrounded by wetlands. There are some nice hemlock groves beside it that we used to use for overnight camping.
There was a large parade grounds which was used for parking on visitor's day, ceremonies, ball games, BBQs, etc. Beside it on the lake shore was a large frame building containing the camp headquarters, trading post, workshop and storage areas (complete with squirrel cages for the mattresses). Behind it was a small icehouse that Fred Owens filled every winter. The trading post sold various crafts (lanyard supplies, totem pole carving, moccasin kits, etc.), snacks and scouting supplies. On the far side of the parade grounds was a storage barn (also used for Order of the Arrow paraphernalia) behind which was the staff camping area. Moving from the parade grounds to the north, after passing through a gate and crossing over the small outlet steam, there was a nature lodge along the lake shore and then a picnic and camp craft area. Beyond that was the waterfront area with buddy board, dock, diving board, swimming areas (cordoned off with lemon lines), row boats and canoes. Up from the water front area overlooking Hodge Pond was the dining hall, the centre of camp life. It was a newer building, probably built in the late 1940s. As well as serving meals, it was used for meetings, special events, and campfires in case of rain. There was a large stone fireplace at each end that consumed a lot of wood but felt cosy on a rainy evening. There even was an old piano. Across from the dining hall was another parade grounds (used in later years) and the health lodge. Further down the road on the right was a wood-fired shower house. Even further along the road on the lakeshore was the council fire area and an outdoor chapel. The camp headquarters, dining hall and health lodge were equipped with electricity.
There were eight separate campsites for visiting scouts. Lenape and Iroquois were up on the hill beside the parade grounds and were reached by steep trails with numerous switchbacks. Towanda was across from the picnic area before the dining hall while Shawnee, Sioux, Apache, Blackfoot and the Explorer site were further along the road beyond the dining hall. Iroquois and Shawnee were equipped with lean-tos, each of which had two sets of bunk beds. Other sites had wall tents set on platforms, each of which had two single beds. In good weather you could roll up the sides for fresh air. However, the leaders had lean-tos on all sites. Each site had its own latrine and wash stand. Water was supplied by a seasonal pipeline that ran through the woods from the dining hall. Porcupines did a lot of damage gnawing the wood around the urinals. The Explorer site had lightweight floorless tents set on the ground.
The weekly camp cycle started on Sunday afternoon when the new campers checked in. This included physicals at the health lodge and swimming tests to determine level for water front activities. All meals were served in the dining hall. The chief cook for many years was Russell Showers who lived in a small cabin behind the dining hall. We sat on benches at tables for eight, one staff member and seven campers. Each day, one camper served as waiter and one as server. We rotated each day. The waiter had to show 15 min early to set the tables. The food was quite good with plenty to go around, especially on Sunday dinner which usually featured turkey and ended with the chant "We want the cooks" which continued until they appeared in the door to the kitchen. Monday to Wednesday had various activity periods in the morning and afternoon (nature, waterfront, camp craft, etc.) geared to working on requirements for Second Class, First Class or merit badgers. There was a rest period after lunch. Everyone gathered in uniform at the end of the day at the parade grounds for flag lowering. Then off to supper. After supper, there was a chance to go rowing or canoeing on Hodge Pond. This was followed by some kind of camp wide activity such as a treasure hunt or campfire. A fun and full day for all. The camp bugler was busy all day proclaiming events starting with first call at 0705 and taps at 2130.
On Wednesday afternoon, we departed for overnight backpacking trips somewhere on the network of trails on the camp property. The most popular destination was Frick Pond but there were other nice sites available. We were outfitted with tarp tents, aluminium cook kits, dehydrated food, pack boards and packsacks as needed. Cooking was done over open fires. The standard menu included macaroni and cheese, spaghetti and meat balls, beef stew, pudding, Bisquick for making twist on a stick, punch and cocoa. Breakfast usually featured pancakes and syrup. The pots we were issued usually got charred and a lot of elbow grease was needed to clean them. We would return to the main camp on Thursday and the first event was usually a swim or mandatory hot shower to clean up. That night we usually had a cookout run by camp staff. For several years there was an ex-marine on staff by the name of Sam Thusen who always impressed us by how quickly he could cut up a watermelon with a machete. On these nights we often had staff softball games and campfires with Camp Townsend, a nearby coed camp also run out of Middletown.
Saturday afternoon featured the waterfront regatta which was a highlight of the week. It was a series of competitive swimming and boating events at different levels so all scouts could participate. One of the most fun was the canoe race in which you had to change places on one whistle and jump out and get back in on two whistles. Many of the canoes swamped and never finished. Saturday evening was the final campfire with songs, skits and the handing out of awards, another highlight. The fire was usually lit by an Indian who came across the pond standing in a canoe holding a flaming torch. However, sometimes it was lit by a fireball that came down from a nearby tree along a wire. Always exciting. A favourite cheer was the "heap-how". If done loud enough, we could get an echo off of the mountain across the lake.
At times we had a chance to ride in the back of the camp truck, a four-wheel Willis as I recall. This was great fun. We would stand up in the back behind the cab and dodge the branches. At times, we would even go off the camp property and drive along secondary roads. Looking back this was not very safe but it did not bother us. This was before the days of seat belts.
As much as I enjoyed it, it was always great as a camper to drive out after two weeks of isolation in the woods. Within a week we would be going off to Cape Cod for our two week family vacation. Even in later years when I was on staff, I never went home in the summer. However, a few times we went into Liberty for a movie or ran errands in Livingston Manor.
Here are some of the details of my eight summers at Beech Mountain.
1951
I went as a first year scout for two weeks in late July and stayed up on Iroquois. Dad had fitted me out with a foot locker for my gear which he made out of wood salvaged from the old pipe organ taken out of the Canterbury Presbyterian Church in Cornwall. As I recall, the camp fee was $15 a week. I passed the intermediate swimmers test and therefore could use a row boat but not a canoe. The overnight trip the first week was to Hemlock Grove near Frick Pond in the rain. It was miserable. I did not enjoy my tent mates and got very homesick. It was dark and wet, plus we were not very skilled in maintaining fires and cooking in the rain. However, the world looked rosier the next day when we got back to camp and the weather cleared. I worked on my Second Class requirements (awarded in October). After two weeks, I was keen to return the next year. I remember being a little scared at night when porcupines or racoons came into the lean-to looking for food.
1952
Again I went for two weeks in late July but this time stayed on Apache. Unfortunately I had broken my arm in June (tripped over a bench while flying a kite) and it was still in a cast so I was somewhat limited in my activities, in particular I was not able to swim. I worked on my First Cass requirements (awarded in December).
1953
This was the best year yet. Again I went for two weeks in late July and stayed on Apache. This year I passed the test to be a full swimmer (crawl, side stoke, breast stoke and back stroke) and therefore I could learn to paddle a canoe. The camp had about a dozen cedar canvas canoes which I think were Old Towns. This was the start of my life long love of canoeing. I especially enjoyed the free paddling time in the evening when we could cruise around the lakeshore. I had become a Star Scout in March and so I worked on more merit badges. I was especially thrilled to be tapped out for the Order of the Arrow (Ordeal Level) and I survived the night and day of labour and silence and therefore was made a member in wonderful Indian ceremony at night at a secret campfire site in the woods.
1954
Again I went for two weeks in late July. Now being 14, I was an Explorer and therefore stayed on the Explorer site at the far end of the lake. Our leader was John Prince from Nova Scotia. He was soft spoken with an interesting accent. Little did I know at the time that one day I would become a Nova Scotian myself (I often wonder where he is today). I worked on more merit badges. I think this was the year that the camp experimented with pack burrows. These were kept down at Tom Quick's cabin located down the hill behind the dining hall. Other staff members that year included Harley Katz, Tom Kolassa, Bill Haight, Dave Foster, Bill Price and Bill Baldwin. I think the director was Bill Engert.
1955
Again I went for two weeks in late July and stayed on the Explorer site. I forget the name our leader but he was an avid hunter who took us on some nice cross-country hikes. Of particular note was a bushwhacking backpacking trip over to Mongaup Pond. I worked on numerous merit badges and believe I became a Life Scout. I also believe this was the year I got my Scout Lifeguard. I was also initiated into the Brotherhood Level of the Order of the Arrow at a night-time ceremony at the look off on top of Beech Mountain.
1956
I was now 16 and this was my first year on staff. The director was Joe Sedlacek. I was hired as an Assistant Provisional Scout Master but within a few weeks was promoted to Provisional Scout Master. We arrived in late June right after school was out and spent on the order of a week setting up camp (installing the dock, getting out boats and canoes, pitching tents, setting up beds and mattresses, etc). The camping season ended in mid August and we stayed on several days to put things away for the winter. My salary was $30 for the summer plus room and board. I spent most of the summer on Blackfoot, assisted by George Loes. It was a wonderful learning experience being a leader and responsible for several dozen boys. We enjoyed night time adventures with racoons and porcupines and set up nooses supported by sticks and tried to catch them when they amble through following a trail of crumbs. I also painted lots of signs for camp. Since I had my drivers licence, I was at times asked to run errands into Livingston Manor using the camp pickup truck (Army surplus). Chester Blomquist was the waterfront director and his wife was camp nurse. Other staff included Bill Baldwin, his brother Dennis, Geoff Brown, Vince Coffey (also from Cornwall), Jack Fisher, Dave Foster, Peter Haight, Harley Katz, Bill Price, Don Spencer and Buddy Weygant (also from Cornwall).
1957
I returned for another summer as Provisional Scout Master. This year the camp director was Frank Meduna. This year I was paid the grand total of $100. I worked on various sites but mostly Shawnee and Apache. I was also able to take a week off and attend the National Jamboree at Valley Forge. We travelled down by bus, stopping at Bushkill Falls. That was a marvellous experience and I served as a Junior Assistant Scout Master. Also that summer, I was presented with my Eagle award by Arthur Donahue who was the chief executive in our council. Unfortunately my parents were unable to be there. I also started to help run the Order of the Arrow ceremonies. I really enjoyed playing the roll of Good in the tap out ceremony. I also worked on repairing the ceremonial Indian costumes stored in the barn behind parade grounds by the staff camping area. Other staff included Peter Haight, Deming Payne, his brother John, Bill Price, Don Spencer and Phil West.
1958
For my final summer at Beech Mountain, just after graduating from Cornwall High School, I served as Explorer leader. Frank Meduna was again the camp director. The camp season ran from 22 June to 20 August. My pay increased to $200. For most of the summer I shared a large tent with Peter Haight and Dick Morse on the staff camp site. Among other activities, I organized some extended backpacking trips. One was a cross-country trip to Mongaup Pond where we ran into a coed camping group from Camp Townsend. Another trip was to Slide Mountain which I had climbed numerous times before while staying at the Sutherland's camp on the Neversink in Claryville. We were driven over to Denning in the camp truck and hiked to the summit. Unfortunately, the summer was dry and the spring at the top was empty so we were forced to hike back down in the late afternoon and make camp at the Denning lean-to beside the east branch of the Neversink. We all were very dry by the end of the day. The camp truck picked us up the afternoon of the next day. Another memorable trip was a day hike out to Lew Beach where we had lunch (hamburgers, chips and coke) in a canteen on the Beaverkill River. I had never been all the way out that road before and it was neat experience to hike over the ridge through the woods and out to civilization on the other side. In early August, I took a group of explorers for a three day visit to Camp Buckner, the summer training ground for West Point cadets. We were driven down in back of the camp stake truck and took part in many events with our cadet hosts (a brief article with pictures appeared in Pointer View, the West Point newsletter). This year, I was advanced to the Vigil Level of the Order of the Arrow along with Peter Haight and Dick Morse. This was an unexpected honour for the three of us since we were still relatively young. I was given the name of Wakichonza which means leader. At the end of the summer, I had the sailing canoe at camp and enjoyed sailing on Hodge Pond during free time.
Order of the Arrow
The Order of the Arrow was an important part of Beech Mountain life. The Order was part of the camping program of the Boy Scouts of America. The purpose was to recognize outstanding campers, develop and maintain camping traditions and spirit, promote Scout camping, and promote leadership in cheerful service to others. The Order of Arrow tap out ceremony was an exciting event each week. The entire camp gathered at dusk on the parade grounds and formed three sides of a square. An Indian (Good) was paddled across the water while standing in a canoe holding a flaming torch. He stepped ashore and trotted around inside the lines. All of a sudden, he was challenged by another Indian (Evil) who came screaming out of the darkness with another torch. The two fought by banging torches and with much yelling. Good finally won and Evil limped away. Then Good trotted around inside the lines again. He then stopped in front of the scouts selected by their home troops to be tapped out. These were identified by another member holding up an arrow sash behind. The tapping out was three heavy smacks on the shoulder followed by a shove into the arms of the person behind. The scout was then rushed away for the rest of the initiation procedures. Ceremonies were secret and based on Indian tradition. Characters included Meteu, Nutike, Kitchkinet, Allowat, Chingachgook and Uncas. Our local lodge was known as Skanondo Lodge (No. 64) and I served as Service Chairman and Vice-Chief. There were three levels of membership: Ordeal, Brotherhood and Vigil. I really enjoyed the experience of being a member. Our motto was Wimachtendienk, Wingolauchsik, Witahemui (WWW), Brotherhood of Cheerful Service.
Winter Camp
During my explorer and staff years, I also participated at least three times in winter camp. This took place for approximately three days between Christmas and New Year's. Because of the higher elevation, there was always lots of snow and it was much colder than home. We stayed in dining hall. Bunk beds were set up at one end. Fred Owens set up several wood stoves in the middle of the hall plus the two large fireplaces at each end were going flat out. We set up night watches to stoke fires. We must have gone through a lot of firewood. We also did our own cooking in the kitchen. One year it got down to –30 F. We did lots of skating and I remember the first time I heard booming ice which startled me as first. We also practiced winter camping skills. I remember hiking out the road at the end of one session with Peter Haight. The camp truck carried our gear and most of the other campers. It was a beautiful winter morning with fresh snow and we shared a great feeling of spirit and adventure as we strode along singing hiking songs.
I learned many valuable skills that enriched my life immeasurably from my Beech Mountain experience. These included swimming and lifesaving, rowing, canoeing, camp craft, cooking, pioneering and nature lore. I also learned valuable lessons in developing team work, self reliance, confidence and leadership skills. As a result I have always felt comfortable in the woods knowing I could look after myself no matter what the conditions. This experience played a very influential roll in my future endeavours, both personal and professional, and I thank all my leaders for the positive influence they had on my life.
Later Years
In the fall of 1958, I headed upstate for Hamilton College. There had already been close ties between Beech Mountain and Hamilton. David Burner, Don Spencer and Deming Payne had gone before me. John Arfmann also went with me that year, Phil West and Geoff Brown came the following year and John Payne yet a year later. The camp continued for many years until the local council sold it sometime in the early 1980s. I don't know the reasons why but assume that funding was an issue. It was run as a private camp for awhile but then, thank goodness, it was bought by the State of New York and converted to parkland and so was accessible to the public again.
While visiting home in the fall of 1990, I started to hike in along the old road uphill from the ranger's cabin with my father. The road was not passable any more by vehicle because it was not maintained and was strewn with fallen trees. It was hunting season and there were lots of hunters and gun shots about so we thought it wise to turn around. However, I returned with my daughter Heather in April 1994 and we were able to get all the way in. It was a wonderful experience and brought back a flood of fond memories. There was a new access road down the final hill to the parade grounds. All the buildings were gone except the storage barn behind the parade grounds by the staff camp area. However, all the old roads and trails were still clear and foundation sites visible. We also walked along the woods road around Hodge Pond and up Beech Mountain to the lookout. Several cabins in the original family area were still standing but there was no sign of the original Beech Mountain log gateway.
In June 2007, immediately after my 45th reunion at Hamilton College, Peter Haight and I met at the home of Dick Morse in Palatine Bridge, NY for a Beech Mountain reunion. We had not seen each other since the summer of 1958, 49 years ago. We had a grand time reminiscing and telling stories well into the night. The next day, Peter and I drove down to the Catskills. After lunch at the Robin Hood Diner in Livingston Manor, we drove up to the entrance of the camp and parked at the ranger's cabin. Time was limited but we were able to walk around Frick Pond and through the hemlock grove where we used to go overnight camping. We also paid a brief visit to Mongaup Pond.
Compiled by Don Gordon (May 2008). Comments, additions and corrections are appreciated. Contact numbers are:
Email: gordond@mar.dfo-mpo.gc.ca
Phone: 902-469-2798
Post: Don Gordon
121 Crichton Ave
Dartmouth, NS B3A 3R6
Canada